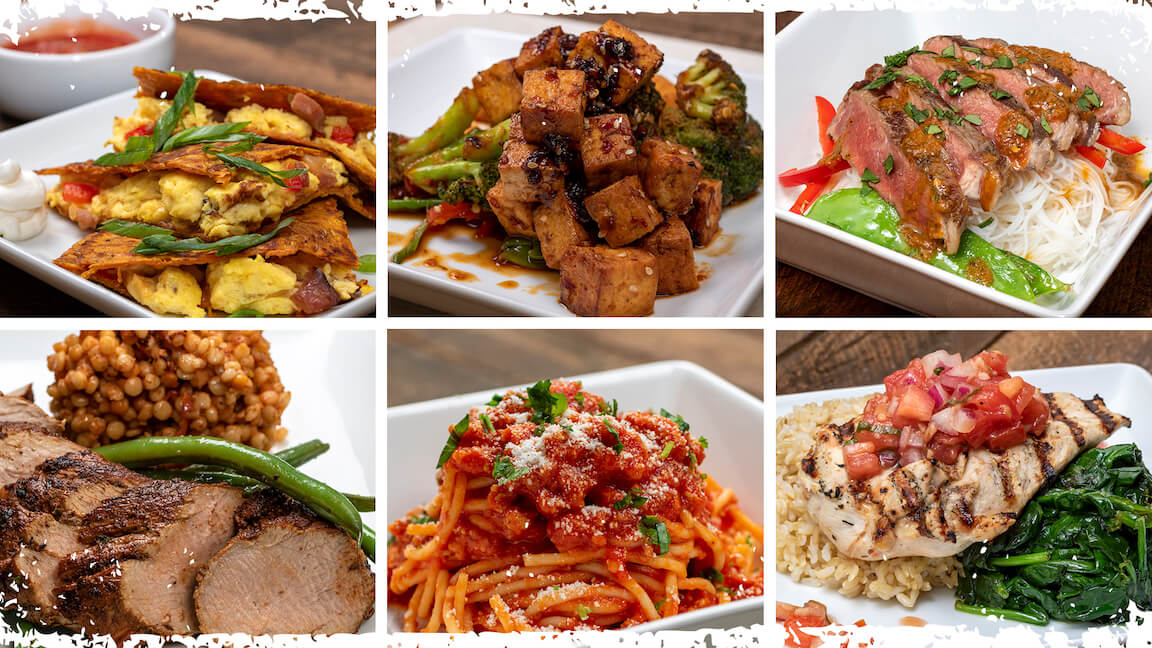 The rumors are true – we have a new menu! This isn't just one week of new menu items. Over the next six weeks, you will see brand new meal choices. We built this menu from your feedback. Let us know how we did so that we can keep creating meals that you want to eat.
Things To Be Excited About:
New menu items have arrived, but we're still keeping your favorites!
About 60% of the menu is completely revamped, but we saved the goodies. Our chicken fajita bowl, Mediterranean chicken, and toasted sesame quinoa bowl are all staying.
A new plan option – Signature
Previously, our meal portion options were Lean (averaging 400 calories) and Performance (averaging 600 calories). I was frequently asked to build a "middle of the road" option. So here it is – the Signature line.
Here's how the portions stack up now for an average meal.
Lean: ~300 – 400 calories, 3.5 – 4 oz. protein, ½ cup starch (unless low carb), and ¾ cup veggies
Signature: ~500 – 600 calories, 5.5 – 6 oz. protein, ¾ cup starch, and ¾ cup veggies
Performance: ~700 – 800 calories, 7 – 7.5 oz. protein, 1 cup starch, 1 cup veggies
More veggies with each meal
Cause, well, veggies are important!
All meats, including chicken, are still antibiotic and hormone free.
This has always been the case, but it doesn't hurt to point out! That huge chicken breast you see at the store for $2/pound? That's what most restaurants use. It's gross. Our chicken is one notch under organic, all natural, and pasture raised. No rubbery chicken here.
More pasture-raised, grass-fed, and wild game meats
Grass-fed is just, well, better. It contains more omega-3 fatty acids, and another beneficial fat – conjugated linoleic acid (CLA). We have also expanded our meat options to include bison and venison.
Continued variety and meal innovation
My goal is to keep a blend of meal types. High fat/low carb, lower fat/moderate carb, vegetarian, grain-free, dairy-free, and more. If you fall into any one of these categories, we have more options for you! And of course, they all taste amazing!
Continued amazing customer service
My team and I love what we do, and we think it's pretty apparent if you've ever spoken to one of us. As we grow, I continue to add people to my team who are just as passionate about nutrition as I am, if not more so.
You might notice slightly different prices
Even as I started spending more on higher quality ingredients, trained chefs, and other items like delivery bags, I kept the prices I started with two years ago. Truthfully, I was afraid to increase prices and risk upsetting my clients, even though I knew I should have.
I recently accepted the reality that for Fit to grow and continue to make healthy eating convenient and accessible to more people, I would have to raise my prices. The price increase ends up being about $.75/meal. For example, the Lean 7 meal pack is going from $59 to $65. Not a huge jump.
We continue to be the best quality and best-tasting meal prep company in the region, while our price per meal is lower than our competitors. The extra slack helps me to continue to hire professional help, pay for top-notch quality groceries, and continue to innovate as we expand.